Acer Campaigns and Digital Solutions that Advocate Sustainability Recognized by Red Dot Awards Body
Acer recorded its highest number of Red Dot Brand & Communication Design Awards across multiple projects that showcase its corporate vision, sustainability efforts, and product creativity
TAIPEI (August 30, 2023) Acer garnered 12 Red Dot Awards in this year's Brand and Communication Design ballot, marking the largest number of winning entries for Acer in this competition. The 2023 winning line-up features a mix of design projects under multiple categories such as advertising, film & animation, product packaging, website, and digital solutions.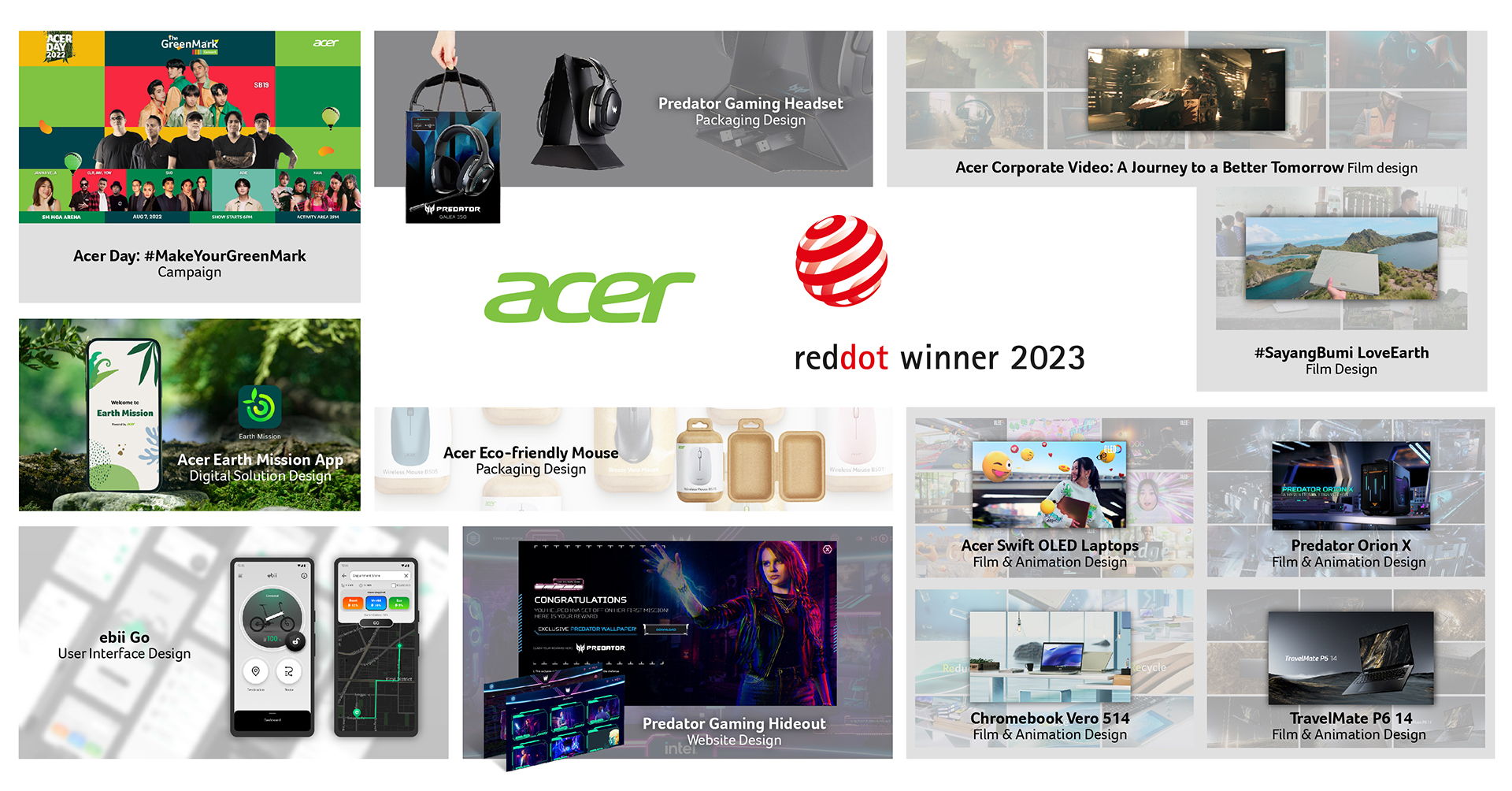 The creative product videos of the Predator Orion X gaming desktop, the Acer Chromebook Vero 514, the TravelMate P6 14 business laptop and the Swift OLED laptops each took home awards in the Film & Animation category. The advocacy films in "#SayangBumi" and the latest Acer Corporate Video "A Journey to a Better Tomorrow" also received the distinction for Film Design. In the Packaging Design segment, Acer's eco-friendly mouse and Predator gaming headset were acknowledged for their aesthetic and environment-friendly design concepts. The interactive Predator Hideout website also caught the attention of the Red Dot jury for its unique and engaging concept under the Web Design category, while the "Acer Day: #MakeYourGreenMark" advertising campaign received recognition for simultaneously producing significant results for the Acer brand and the environment through its creative efforts. Lastly, the Acer Earth Mission App and ebiiGO companion application were awarded under the Digital Solutions and Interface Design categories respectively for their user-friendly features and the promotion of sustainable practices.
Since 1993, the world-renowned Red Dot Award: Brands & Communication Design competition has encouraged designers and companies to take part by submitting their projects for the assessment of its international jury. The contest not only celebrates the success of these creative campaigns and their artists but has also helped increase the visibility and credibility of brands and projects within the international design community. Learn more about Acer's winning entries below.
Acer Red Dot Awardees: Brand & Communication Design 2023
Acer Day: #MakeYourGreenMark Campaign: The campaign's unique call to action helped amplify Acer's sustainability message through a combination of innovative promotions, CSR partnerships, and event entertainment. In line with Acer's goal of making a positive impact on the environment, it initiated an exchange of plastic waste donations for tickets to its "Green Mark" concert held in the Philippines, which featured a line-up of famous Filipino artists who helped promote the urgent need for sustainable actions. The campaign raised funds that will be used to plant 5,401 trees to aid in forest rehabilitation efforts and a donation of over 20 metric tons of plastic to an environmental non-government organization.
#SayangBumi Film: The #SayangBumi movement, which means "to love Earth", aims to spread greater awareness for environmental issues and encourage active participation in addressing these challenges. The online documentary film series features Indonesian influencer, Ricky Santoso, visiting three destinations across Indonesia to tell stories about environmental preservation highlights, local wisdom, and to encourage everyone to take responsibility for preserving their beauty. Acer not only initiated efforts to educate locals about recycling and nature preservation, but also donated Aspire Vero National Geographic Edition laptops, a symbolic representation of the company's dedication to protecting planet Earth.
Acer Corporate Video: "A Journey to a Better Tomorrow: Acer projects its core values in the eyes of everyday people from diverse cultures, the pursuit of their own aspirations, and the shared passion of making the world a better place. The corporate video combines the elements of the human touch and Acer's innovative solutions, as it continues to evolve with the industry and changing lifestyles to create products that help break barriers between people and technology, while keeping sustainability at the core.
Acer Earth Mission App: The Earth Mission app was developed with the goal of making a positive impact on the environment and the people that live in it. As a digital solution with a purpose, Acer encouraged its employees and partners to develop eco-friendly habits through daily action for at least 21 days. Its user-friendly format and gamified mechanism help them stay engaged in achieving their green missions and reward them for their accomplishments. During its launch in 2022, over 7,400 participants joined the movement, with a green action carried out every 30 seconds. The combined efforts resulted in cutting almost 160 tons of CO2 emissions.
ebiiGO App User Interface: The ebiiGO app was designed to help assist Acer's ebike riders on and off the road. Just like the ebii itself, the companion app's modern user interface has been designed to conveniently navigate through its many innovative features such as its real-time and AI-based route planning, anti-theft solution, monitoring functions, riding dashboard, and assistive tools for seamless and safe city traveling.
Acer Eco-friendly Mouse Packaging: The universal mouse packaging design is a refreshing and responsible effort that reflects Acer's pursuit of sustainable development beyond its products. It fuses functionality, versatility, and care for the environment as its patented egg-shaped structural design makes for easy assembly, provides consistent protection for different types of mouse products during transportation and storage, and is made from recycled paper. The packaging's natural color and pulp-like texture also provide a unique aesthetic and emphasize the importance of sustainability.
Predator Gaming Headset Packaging: Redesigned to bring greater user experiences and to demonstrate the brand's commitment to environmental protection, the new Predator headphone packaging design has significantly reduced the use of paper in its assembly without sacrificing device protection. It also enables it to be converted into a practical headphone stand after unboxing and showcases a modern, triangular design that aligns with the Predator brand's sleek and modern style.
Acer Chromebook Vero 514 Product Video: The product video displays the laptop's design which embodies the core values of Acer's Earthion mission and the spirit of sustainability. Scenes of reused materials and elements of Mother Nature being transformed into the device's components and recyclable packaging symbolize Acer's innovative practices of giving waste a "second life" through its Vero line of eco-friendly products and inspiring others to do their part for the environment.
Predator Orion X Product Video: Leveraging the gaming desktop's sci-fi-inspired design, the Predator Orion X's product video storyboard portrays the device as a sophisticated spacecraft navigating through the rigors of the universe and withstanding the demands of its astronaut/user. The video showcases scenes and symbols that highlight the Predator device's powerful performance, advanced cooling system, and DIY-friendly components all housed in a compact chassis.
Acer Swift OLED Laptops Video: To communicate the essence of the Swift line's tagline: "Indulge Your Eyes", the video projects a creative blend of dynamic visuals, vibrant colors, and eye-popping graphics, mirroring what users can expect from the Swift laptops' OLED screens. It also highlights the laptops' flexibility of catering to a wide range of user profiles and personalities, showcasing its hardware and advanced software features for enhanced usability.
Acer TravelMate P6 14 Product Video: The product video draws inspiration from TravelMate brands' 30 years of providing high-quality experiences and technology to professionals and corporations. Predominantly shot in black and gold backgrounds, the hues embody the laptop's sophisticated design and gold-standard features such as a high-performance processor, Dust Defender technology, 5G network compatibility, and vital security elements that elevate the overall hybrid working experience for users. ​
Predator Gaming Hideout Website: Users can venture into this virtual destination and be one with the Predator tribe to discover what lies within. Crafted to engage gamers and enthusiasts, the website provides a first-person gaming experience with a point-and-click navigation style, interactive elements, and challenges to be explored. Each click offers the opportunity to uncover details about the tribe members through mini-series videos, access to various product information and features, and exclusive downloads to be enjoyed.