Acer Expands Closed Beta for Planet9, a Next-Gen Esports Platform
From December 1, more gamers can build their team, train for excellence, and challenge for victory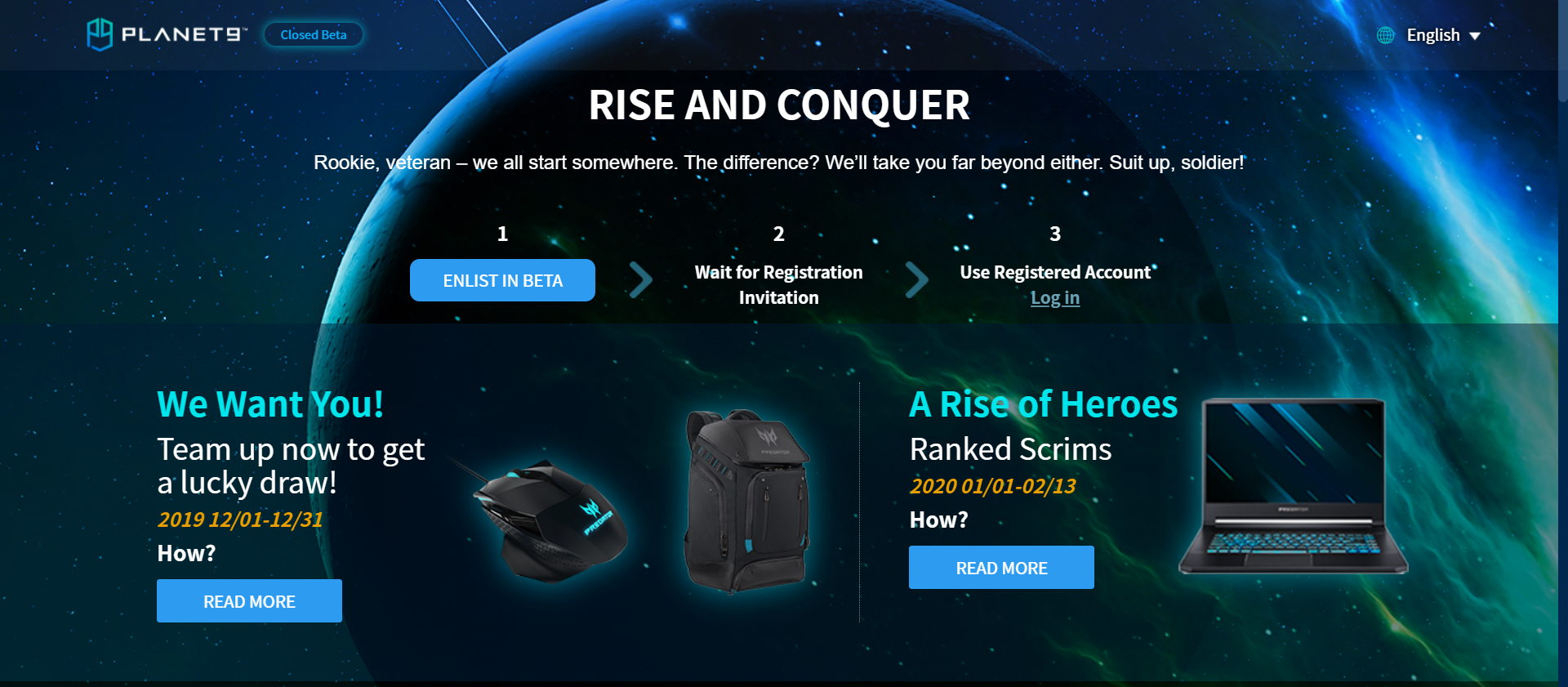 TAIPEI, TAIWAN (November 22, 2019) Acer today announces that it will expand the closed beta for Planet9, its next-gen esports community platform, on December 1. Planet 9 was originally launched as a limited closed beta in September, and encouraged by an overwhelmingly positive response, Acer has decided to expand the platform's closed beta. Users can begin signing up on December 1 at 9:09 AM Taipei Standard Time  (GMT+8).
Planet9 is a social platform designed to help gamers find teammates who have similar skill levels and motivations. It also helps to motivate players to improve by providing them with feedback about their performance.
"Planet 9 is a community-oriented platform designed to give gamers everywhere a chance to interact and learn from each other. It is intended to be a social platform that caters to multiple audiences: those looking to improve are introduced to similarly skilled teammates and opponents, likewise, those just looking to chat and enjoy themselves can meet other casual players," said Andrew Chuang, AVP, Esports Services, IT Products Business, Acer Inc.
"Acer hopes to create a positive environment where everybody is connected by a passion for gaming, to form tight bonds with players and also offer more ambitious players an environment where they can prepare for the pro scene."
Team Building: World's only platform to integrate gameplay data and social capabilities
Planet9 was designed to bring different esports communities together in one place, and a major part of the platform is effectively managing and integrating these communities. The platform will help users to find teammates based on a variety of factors such as game type, skill level and time zone. It also gathers and records a wide variety of data such as score, pathing, K/D ratio and death location, providing coaches and managers information they can use to help guide their players.
Previously available only to the pros, Planet9 is the only system in the world that provides players of all levels with in depth statistics – about both personal and team performance – regardless of skill level. The platform is designed to allow all players to make data-backed decisions about how to improve, what weak areas they should try to cover and what strengths they should capitalize upon.
Planet9 aims to provide a secure, closed platform where teams can meet to discuss strategy and managers can more easily organize match scheduling.
Players who join Planet9 from December 1 to December 31 will receive an invite code they can share with others to becomes teammates. Invite codes can be shared with otherplayers, and anyone who invites at least one other person to join a team will be entered into a raffle for a chance to win gaming accessories and Predator devices.
"Scrimmage" - Challenge others, chat in a pre-game lobby, duke it out to see who's best
Planet9 provides players with a unique battle platform. Before a match begins, each team will have access to the opposite teams individual and team data. This gives each side a chance to understand the opponent's strengths and weaknesses, strategize, and ultimately create a higher quality experience for everyone involved.
Each match scheduled will be noted in Planet9's event calendar and reminders will be sent to players before games begin. Once gathered, both teams can join a text/voice supported pre-game chat lobby while waiting for the match to begin.
Players will have the month of December to explore the platform's features, find teammates and prepare for the Planet9 Esports Competition in January.
On January 1 2020, Planet9 will host the "Rise of the Heroes" esports competition. Through February 13, players can complete daily missions to collect Stargems, a type of virtual currency that can be turned in to join the competition. The winner of this competition will receive a Predator device, powerful gear sure to aid them in future competition.
Planet9: Open Beta starts on January 30, 2020.
Planet9's second closed beta begins on December 1. Practice with your teammates in December, make your strategies and learn from your personalized gameplay feedback in preparation for Rise of the Heroes on January 1 where, the winning team will walk away with a Predator gaming device.
Concluding the competition, Planet9 will officially go into open beta on January 30, 2020. 
Planet9: https://www.planet9.gg/GLOBAL/en