Acer's ConceptD Line for Creators Earns Good Design Awards
TAIPEI, TAIWAN (October 5, 2020) Acer's ConceptD line of products for creators has won two 2020 Good Design Awards, shared amongst three products: the ConceptD 3 Ezel and ConceptD 7 Ezel notebooks, and the ConceptD 700 desktop.
"Winning this award comes down to being able to understand and accommodate the needs of your audience," said Seji Peng, AVP of Industrial Design, Acer. "Last year, when the ConceptD brand of creator products was just launched, the ConceptD 7 notebook won a Good Design award. We listened to feedback from users, watched how it was getting used, and thought about how we could make a computer that further complemented the needs of the people using it. This year, we are particularly excited with the ConceptD 7 Ezel winning another Good Design award, as it means that we understand the lifestyle of creators and are indeed bringing them value."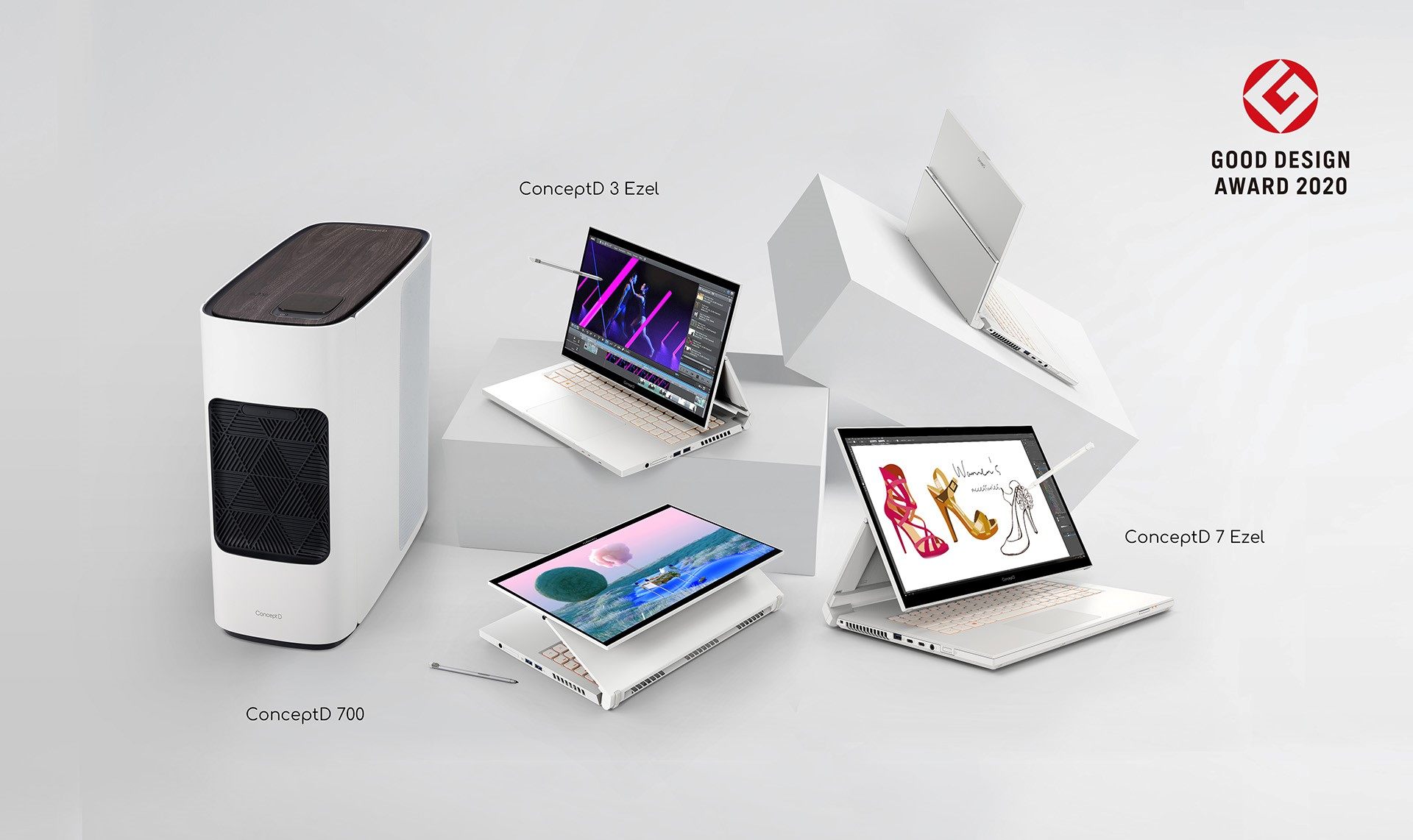 ConceptD 7 Ezel – A Portable Desktop Replacement
The ConceptD 7 Ezel is a laptop powerful enough to handle real-time 2D or 3D renderings and creations. The notebook's functional design language strives to empower creators with the freedom necessary to bring their ideas to life. Its namesake Ezel hinge allows for six usage modes, allowing users to choose a form factor that suits their needs at the time.
Particularly well suited for drawing, the device's 4K UHD Pantone® Validated display covers 100% of the Adobe® RGB color gamut with a color accuracy of Delta E<2. An included Wacom EMR pen with 4,096 levels of pressure sensitivity allows users to get the most out of this screen, never needing to be charged and able to be conveniently stored within the notebook's ceramic-finished all-metal chassis.
ConceptD 3 Ezel – A Creative Toolbox
The ConceptD 3 Ezel is a fully convertible notebook designed around the needs of art and design students or hobbyists, providing everything necessary for creation in one attractively modern package. The device's stain- and abrasion-resistant MAO (Micro-Arc Oxidation) coated chassis is made from a magnesium-aluminum alloy that gives it a premium feel while also keeping the device a portable 1.68 kg (3.7 lbs) [1]. Furthermore, 18 hours of battery life [2] and a glare-reducing Corning® Gorilla® Glass Display[1] empower users with the time and freedom necessary to make every detail of their creations count, no matter where they've chosen to work for the day.
ConceptD 700 – A Creator's Workhorse
The elegantly designed ConceptD 700 workstation was built with creative professionals in mind, namely filmmakers, animators and AEC (architecture, engineering, construction) designers.
This powerful machine comes in a minimalist design that lets it blend in and imbue any workspace with a refreshingly modern touch. Three internal fans [3] keep the system nice and cool even under heavy rendering loads, while the workstation's exceptional design serves to maintain a noise level of under 40 dBA. A number of these choices also double as functional features: the wood effect top allows for convenient wireless charging, a headset cradle is tucked away into the front airflow panel and an unobtrusive bar on the back of the computer handles cable management.
The Good Design Award
The Good Design Award is a prestigious award from Japan that recognizes innovative designs capable of enriching peoples' lives. It screens a wide amount of products in search of those which push the frontiers of what design is capable of doing, then promotes these products to the world at large in order to foster the next waves of innovation. Ultimately, the award aims to help create a society "where everyone can lead a rich and creative life."
[1] Specifications vary depending on model and/or region.
​[2] Listed battery life is based on MobileMark 2014® productivity mode testing with wireless on. Details of MobileMark 2014 testing are available at www.bapco.com. Battery life rating is for comparison purposes only. Actual battery life varies by model, configuration, application, power management settings, operating conditions, and features used. A battery's maximum capacity decreases with time and use.
​[3] Two system fans (front and rear) and one CPU cooler.