Acer Listed in Top 5% of Companies in S&P Global Sustainability Yearbook 2023
For the third straight year, Acer is named in the S&P Global Sustainability Yearbook for sustainable business practices
TAIPEI (March 2, 2023) Acer Inc. (TWSE: 2353) has been listed in the Top 5% [1] category of the S&P Global Sustainability Yearbook 2023, which included only 708 companies from the more than 7,800 assessed for sustainable business practices. For the third consecutive year, Acer has been named in the yearbook of the "Computers & Peripherals and Office Electronics" industry's top-performing companies.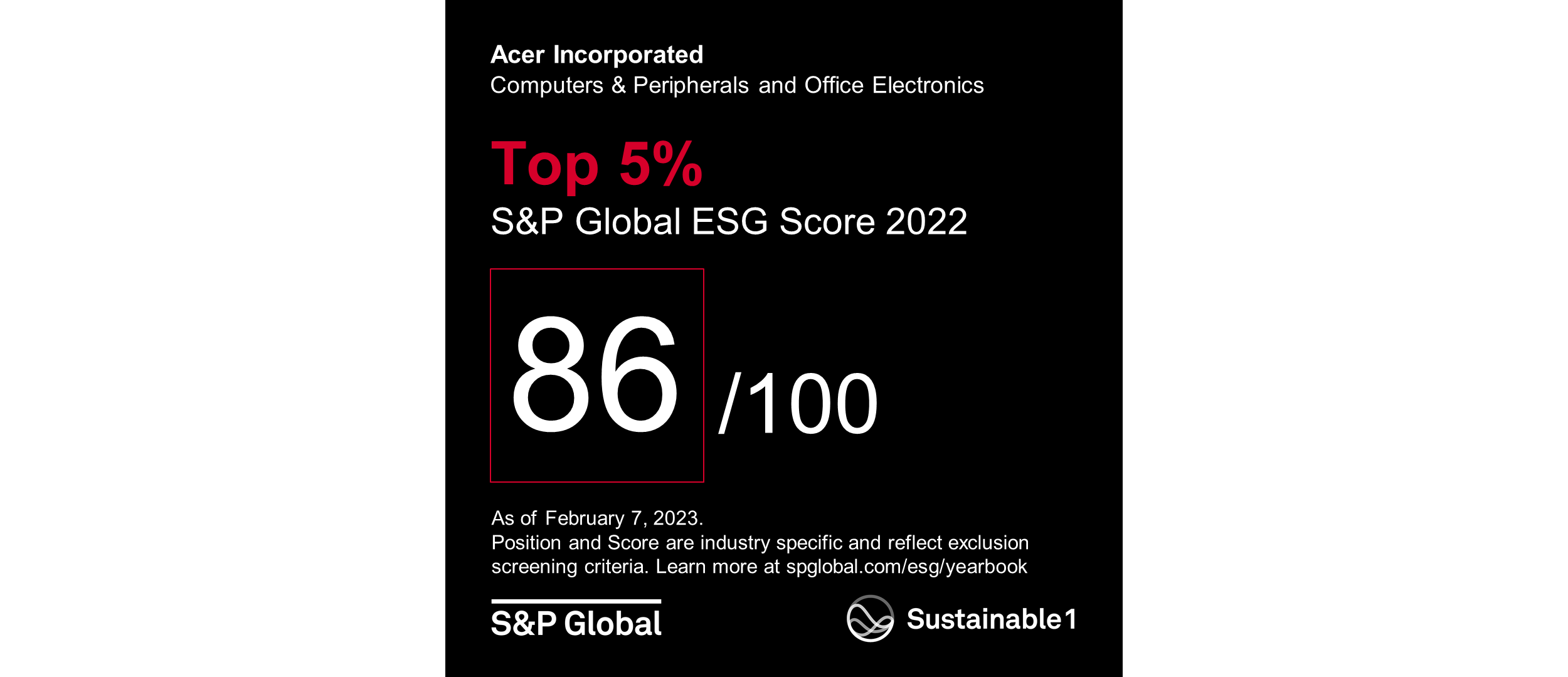 Acer's focus on ESG through transparent reporting and initiatives under its Earthion sustainability mission has seen its growing inclusion in worldwide sustainability indices, including:
A constituent of the MSCI ESG Leaders Indexes in 2022 for the ninth consecutive year and garnered the best rating of "AAA"[2] in its category.
Listed on the Dow Jones Sustainability Indices (DJSI) Emerging Markets in 2022 for the ninth consecutive year.
Awarded Platinum medal, EcoVadis Sustainability Rating's highest recognition that represents the top 1% of rated companies.
Listed on the FTSE4Good Emerging Index in 2022 for the seventh year.
In the subcategory FTSE4Good TIP Taiwan ESG Index [3], supported by the Taiwan Stock Exchange, for the fifth year.
Meanwhile, Acer's Vero line of products built with recycled materials continues to expand, offering consumers, businesses, and organizations more options to reduce their carbon footprint.
[1] Formerly known as "Silver Class" distinction in the S&P Global Sustainability Yearbook
​[2] MSCI Rating as of Dec. 12, 2022.
​[3] First Taiwan domestic benchmark developed using FTSE ESG Ratings and data model, developed in partnership with Taiwan Stock Exchange's (TWSE) wholly-owned subsidiary, Taiwan Index Plus Corp. (TIP)