Acer Releases 2021 Sustainability Report and Shares Milestones on Acer Green Day
Relive the Acer Green Day event in full or watch the highlight video to see how Acer is calling on partners and suppliers to join its Earthion mission and amplify the positive impacts on the environment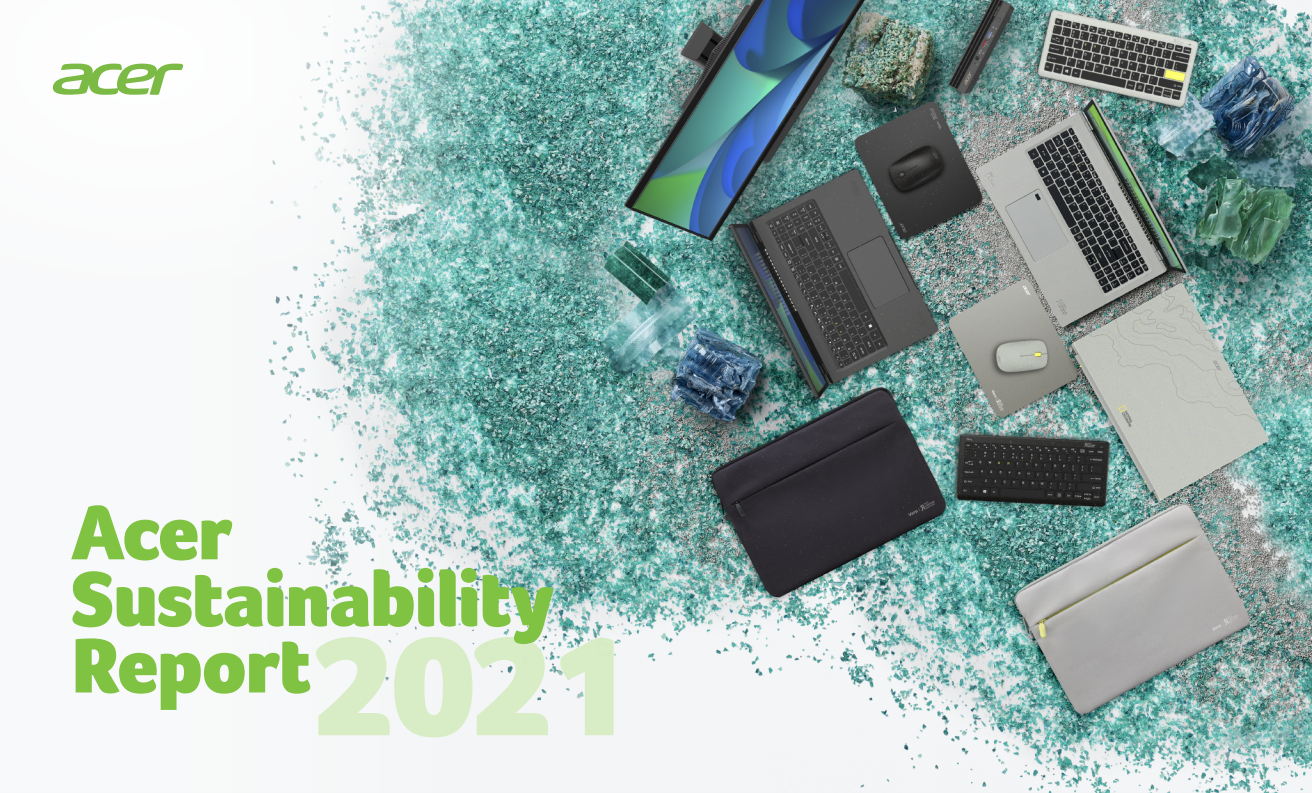 Acer's sustainability goals for 2025 focus on circular economy, climate change, and social impact
The 2021 Sustainability Report follows the GRI Sustainability Reporting Standards, adopts the Sustainability Accounting Standard Board index, and adheres to the Task Force on Climate-related Financial Disclosures framework
TAIPEI (September 19, 2022) Acer has released its 2021 Sustainability Report which includes the strategies, actions, and outcomes of its environmental, social, and governance (ESG) efforts. Acer's sustainability reports (formerly named corporate responsibility reports) have been published annually since 2008, emphasizing the company's adherence to transparent reporting and public disclosure of information.
As a part of its ESG strategy, Acer has set sustainability goals for 2025, focusing on the aspects of circular economy, climate change, and social impact. The 2021 Sustainability Report also follows the GRI Sustainability Reporting Standards (GRI Standards), adopts the Sustainability Accounting Standard Board (SASB) index, and adheres to the Task Force on Climate-related Financial Disclosures (TCFD) framework to report the company's financial impact on climate change.
Acer firmly believes that the key to creating business growth and sustainability in the long term is through continuous evolvement with the industry and lifestyle changes, and taking action to help reduce the burden on the environment. In 2021, Acer declared its mission to help tackle environmental challenges with the Acer "Earthion" platform, which unites the strengths of its employees and supply chain partners to effectively expand the social impact of the company's eco-friendly efforts.
Setting Sustainability Goals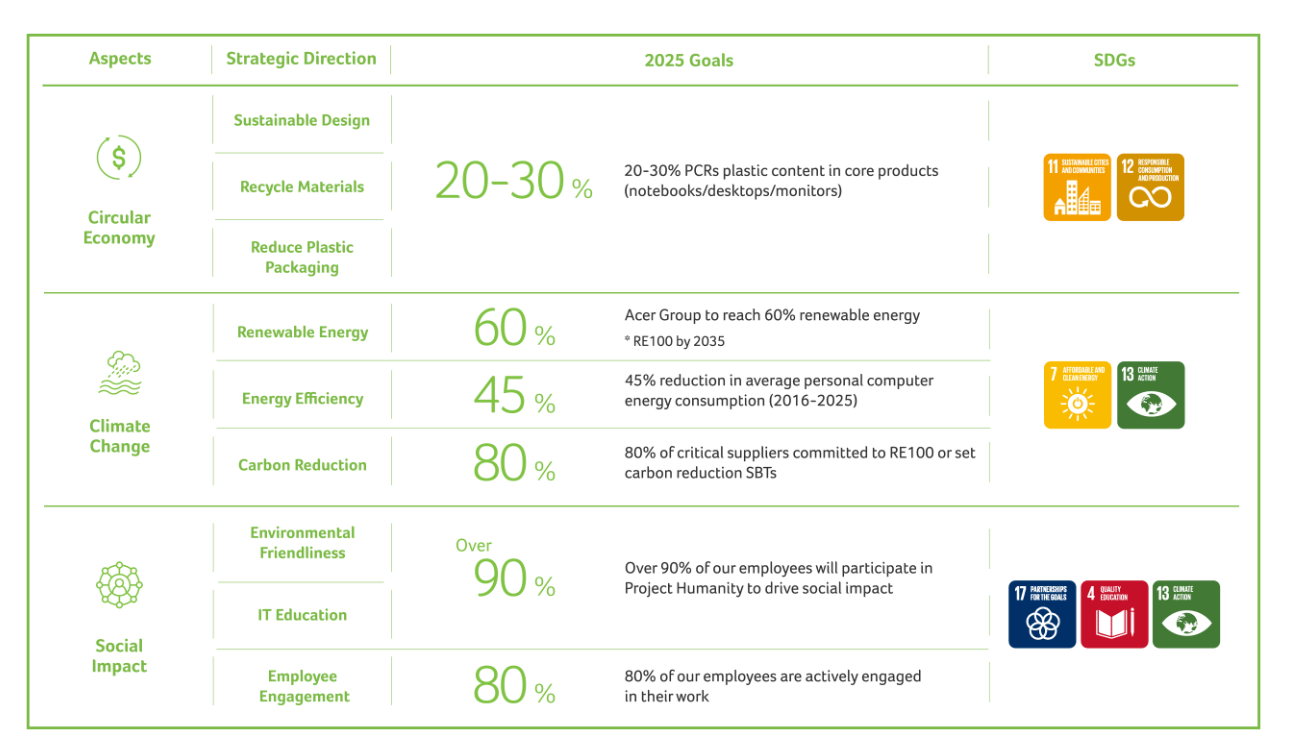 Acer set multiple goals and commitments in 2021. Among them, Acer joined the RE100 initiative and pledged to source 100% renewable energy by 2035. It also set a goal to reduce average personal computer energy consumption by 45% by 2025, compared with 2016. As an advocate for circular economies, Acer launched the Vero line of eco-friendly devices that has now expanded to include laptops, desktops, displays, all-in-ones, Chromebooks, and accessories. It also incorporates post-consumer recycled (PCR) plastic, ocean-bound plastic (OBP), and recyclable packaging in its product portfolio. These commitments also comply with the UN's SDG 12 for responsible consumption and production, and SDG 13 for climate actions. Since adopting the global disclosure system of the Carbon Disclosure Project (CDP) in 2008, Acer has expanded this to three tiers of supplier engagements to manage the environmental impacts of its supply chain beginning this year.
For the fifth straight year, Acer's global ESG Project Awards highlighted the social responsibility initiatives and the passion of its employees worldwide. As an ICT company, Acer's projects have constantly sought to promote digital equity and break barriers between people and technology. With greater focus on education and the environment, Acer has been helping disadvantaged groups by providing computers for the blind and teaching them to use assistive technology, refurbishing computers, and providing computer literacy education for veterans to help them better integrate into the workforce. Acer employees have also initiated various green actions such as recycling used electronics and taking part in the company's collaborations with non-profit groups in planting thousands of trees to help protect the environment.
Acer's corporate responsibility efforts have consistently been recognized by global sustainability indices:
Acer Green Day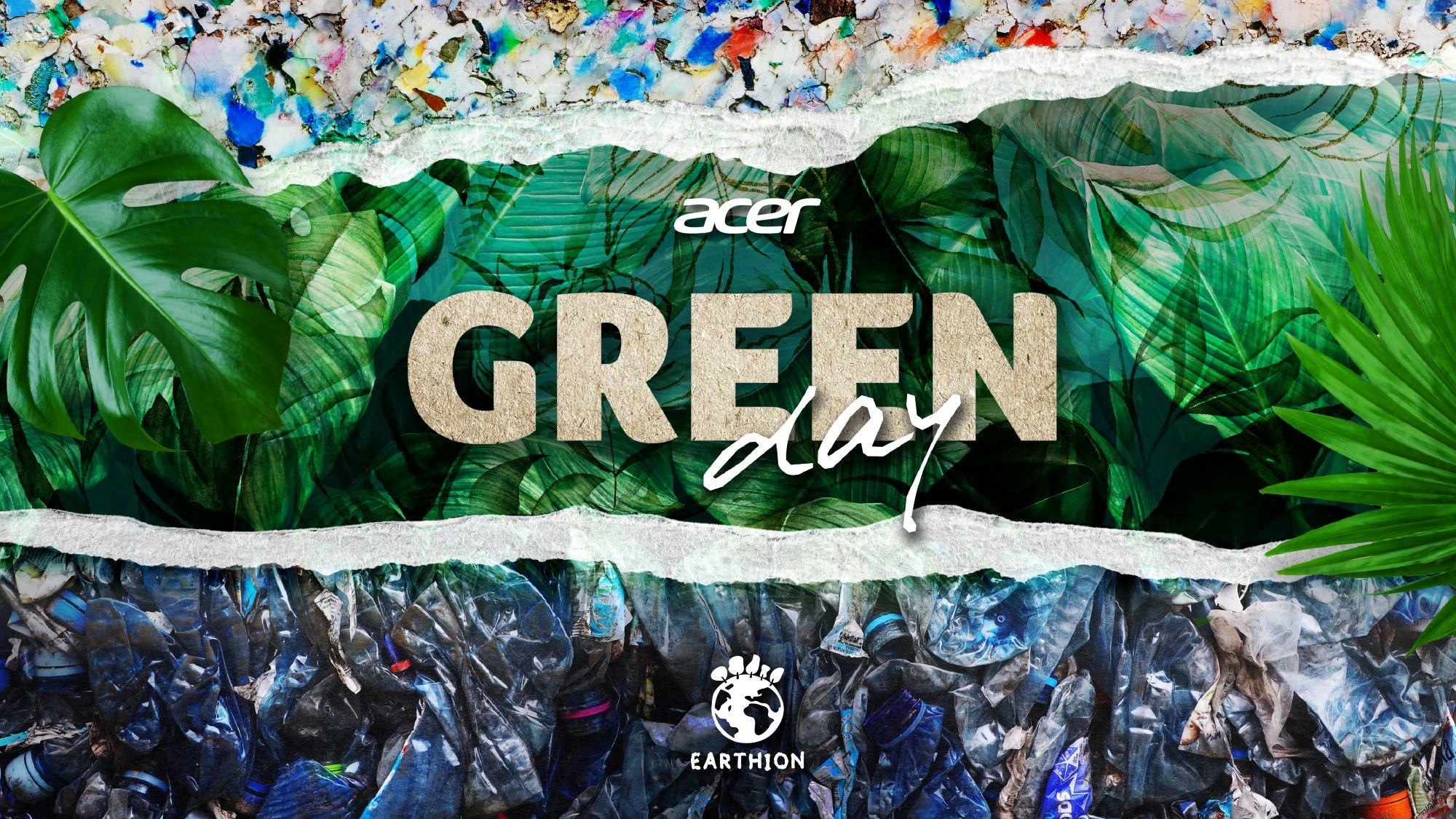 As environmental issues are becoming increasingly pressing, Acer is urging more of its employees, partners, and suppliers to join forces in reducing harmful impacts on the environment and saving valuable resources by transitioning toward a circular economy. Acer believes that concerted actions are necessary as they can greatly amplify the positive impacts made on the environment. On Acer Green Day, the company shared its Earthion sustainability mission milestones via an online global event, and launched its "21-Day Challenge" as part of its Earthion mission to encourage its employees to conduct green actions daily and make them a habit. That challenge has now expanded to include the employees of Acer's partners and suppliers, as well as consumers. Users can now take part in the #Acer21DayChallenge via Instagram, which follows several green influencers sharing their stories about reducing/reusing/recycling and activities which integrate eco-friendly actions into their lifestyles.
With its stakeholders' support, Acer has navigated through these ever-challenging times that continue to test its resilience to industry, environmental, and social impacts.
Acer Green Day 2022: Full Event
Acer Green Day 2022: 2-minute Highlights
Acer Sustainability Report 2021