Acer Wins Five iF Design Awards in 2020 for Innovation
Predator gaming devices and ConceptD workstations made their mark
TAIPEI, TAIWAN (February 14, 2020) Acer today announces that it has received a total of five iF Design Awards 2020 for its products and videos. The products awarded this year include the Predator Thronos gaming chair, the ConceptD 500 and ConceptD 700 workstations and a gaming PC that will be announced later this year. Two videos also received awards in the communication category: ​ PredatorVerse: 2019 Summon Your Strength and a video of the 2019 Orion 5000 gaming desktop, Raw Power.
The iF Design Awards is an internationally renowned competition that recognizes particularly well-designed products. Acer's submissions were selected by a panel of 78 international experts from a pool of over 7,300 entries.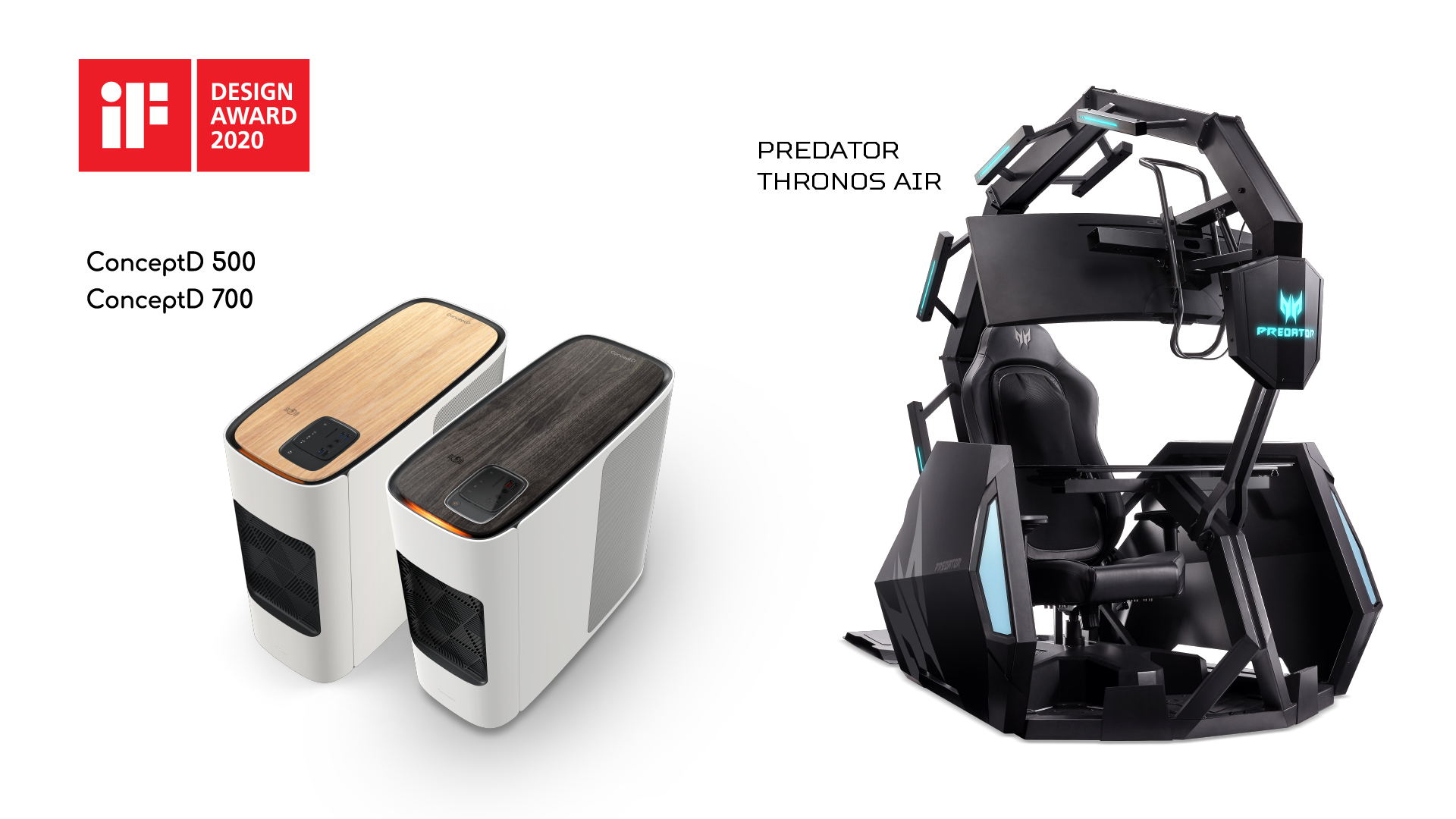 Predator Thronos Air Gaming Chair
The Predator Thronos Air is an enclosed "chair" for hardcore gamers that brings immersion to a new level, enveloping them in a comfortable cockpit. The ergonomic chair itself is highly adjustable (130 degrees inside cabin and 180 degrees outside) and has a built-in massage function. The cabin features a scorpion arch that can support three displays [1] and be adjusted to offer the best visual angle.
ConceptD 700 and ConceptD 500 Workstations
The ConceptD 700 and 500 workstations are beautiful additions to any modern studio with quiet operation of just 40 dBA and minimalist Scandinavian design-inspired aesthetics that include a white finish, woodgrain-inspired top side and smooth rounded corners.
ConceptD 700 comes with an Intel® Xeon® E processor and up to NVIDIA® Quadro RTX™ 4000 graphics [2]. The ConceptD 700 is ideal for filmmakers, AEC (architecture, engineering, construction) designers and its powerful and stable performance makes it excellent for complex 3D computer-aided design (CAD) and demanding content creator workflows.
The ConceptD 500 features up to 9th Gen Intel® Core™ i9 processors and up to NVIDIA Quadro RTX 4000 graphics[2]. It is ideal for animators and 3D designers who want to bring their work to a professional level.
PredatorVerse 2019: Summon Your Strength
The Summon Your Strength video campaign is a story of adventure and inclusiveness that aims to build a sense of community amongst gamers around the Predator brand. The exciting video introduces all of the Predator Avatars as they're pitted against enemy forces and a powerful alien, calling on viewers to "join the tribe." The video was released alongside an AR filter on Facebook that painted the faces of audiences, allowing them to see themselves as a member of the tribe.
2019 Predator Orion 5000 Gaming Desktop: Raw Power
The Predator Orion 5000 is a high-end gaming desktop from Acer, and a major goal of this product video was to overlay futuristic sci-fi flavors onto the Predator brand. In pursuit of this goal, the desktop glows a variety of retro colors while synthetic music that has been synced in order to highlight key features of the desktop like its CPU, GPU and RGB lighting in the background.
[1] Up to 15kg
​[2] Specifications may vary depending on model and region