Predator Helios 3D 15 SpatialLabs Edition Laptop Receives 2023 iF Design Awards for Innovative Stereoscopic 3D Display
Special edition Aspire Vero eco-friendly packaging and Acer Connect Enduro M3 5G Mobile Wi-Fi Router also honored for design excellence
TAIPEI (May 17, 2023) Acer announced today that it has won iF Design Awards 2023 across the "Gaming Hardware/AR/VR", "Consumer Products" and "Telecommunication" categories. This year's winning entries feature the new Predator Helios 3D 15 SpatialLabs™ Edition gaming laptop, the eco-friendly packaging of the Aspire Vero National Geographic Edition laptop, and the portable Acer Connect Enduro M3 5G Mobile Wi-Fi router.
The iF Design Awards is a world-renowned design competition that gives due recognition to creators and brands that showcase outstanding design ingenuity, encouraging greater awareness of the craft and its integration into organizations' long-term planning. Nearly 11,000 entries were submitted for the 2023 ballot, ranging from almost 4,700 participants across 56 territories. Acer's entries were assessed by a panel of 133 design experts and successfully joined the ranks of the 3576 submissions that were bestowed iF Design Awards for 2023.
Predator Helios 3D 15 SpatialLabs™ Edition Gaming Laptop
The Predator Helios 3D 15 SpatialLabs Edition is Acer's latest addition to its line of gaming laptops that utilize the combination of SpatialLabs eye-tracking solution, stereoscopic 3D display, and advanced real-time rendering technologies to deliver an immersive 3D gaming experience unlike any other. Users can fully immerse themselves in its 15.6-inch panel with IPS technology and a 79% screen-to-body ratio thanks to its narrow borders, while allowing them to seamlessly switch between 3D viewing with 2K resolution at 60 Hz or a stunning 4K 2D display.
Players can maximize the 3D gaming laptop's redesigned mini-LED, per-key RGB backlit keyboard to mix and match colors via Pulsar Lighting with the new PredatorSense™ for smoother and brighter dynamic lighting effects. The back vents have also been designed to include subtle RGB lighting along the edges, adding an ambient glow of lights behind the scenes.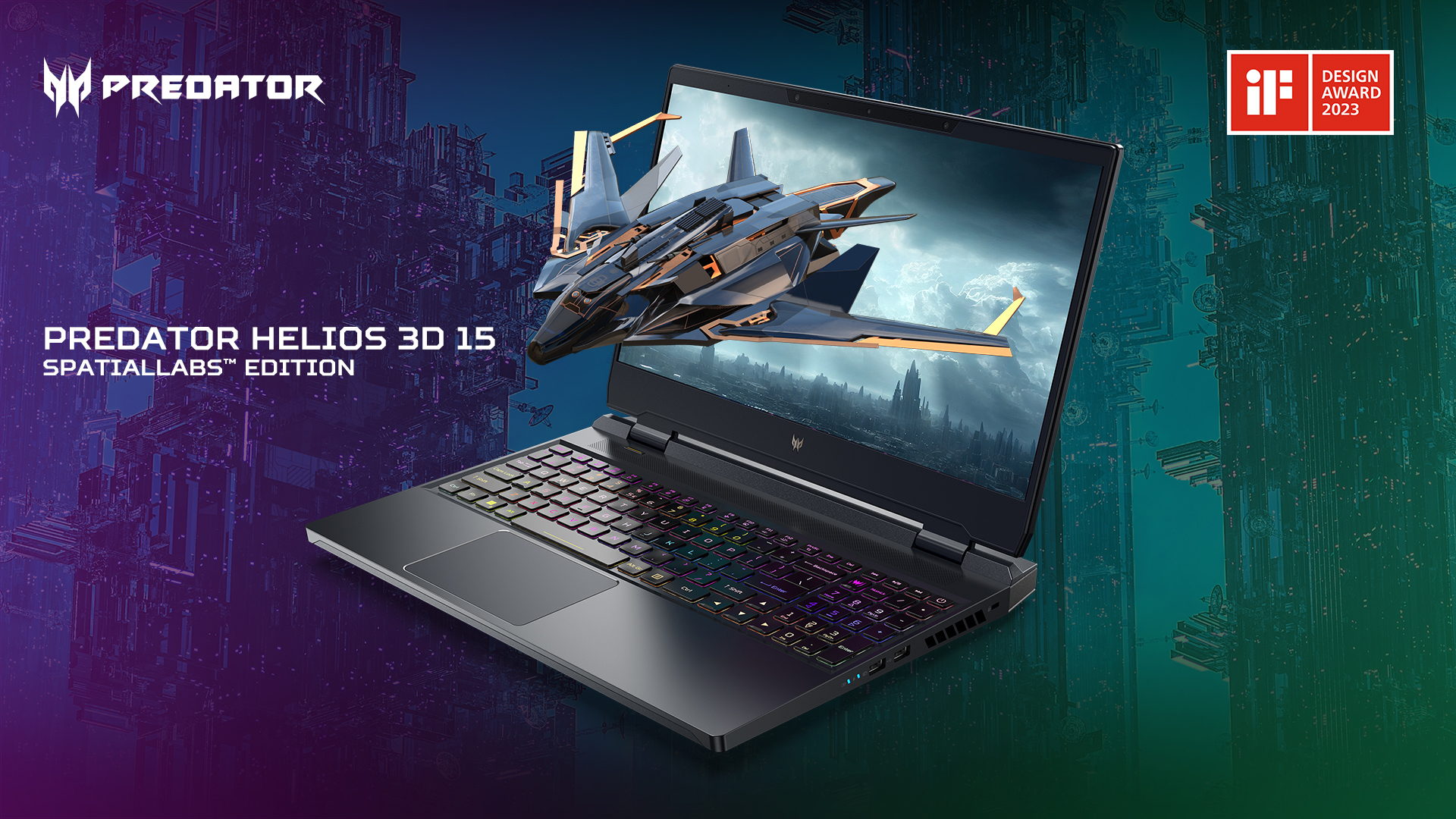 Aspire Vero National Geographic Edition's Eco-Friendly Packaging Design
Inspired by Acer's commitment to a more sustainable future and the efforts of the National Geographic Society to protect our world, the Aspire Vero National Geographic Edition laptop's eco-friendly packaging design utilizes 100% recyclable materials. On top of offering a pleasant unboxing experience, the packaging can be reused for multipurpose functions and can also be repurposed into a handy triangular laptop stand or a compact storage container that could fit in any corner of a room or desk. The innovative packaging was thoughtfully designed to use 85% recycled paper, a 100% post-industrial recycled (PIR) plastic laptop sleeve, and an additional 100% PIR plastic sheet to protect the device throughout shipping while also lowering the product's carbon footprint.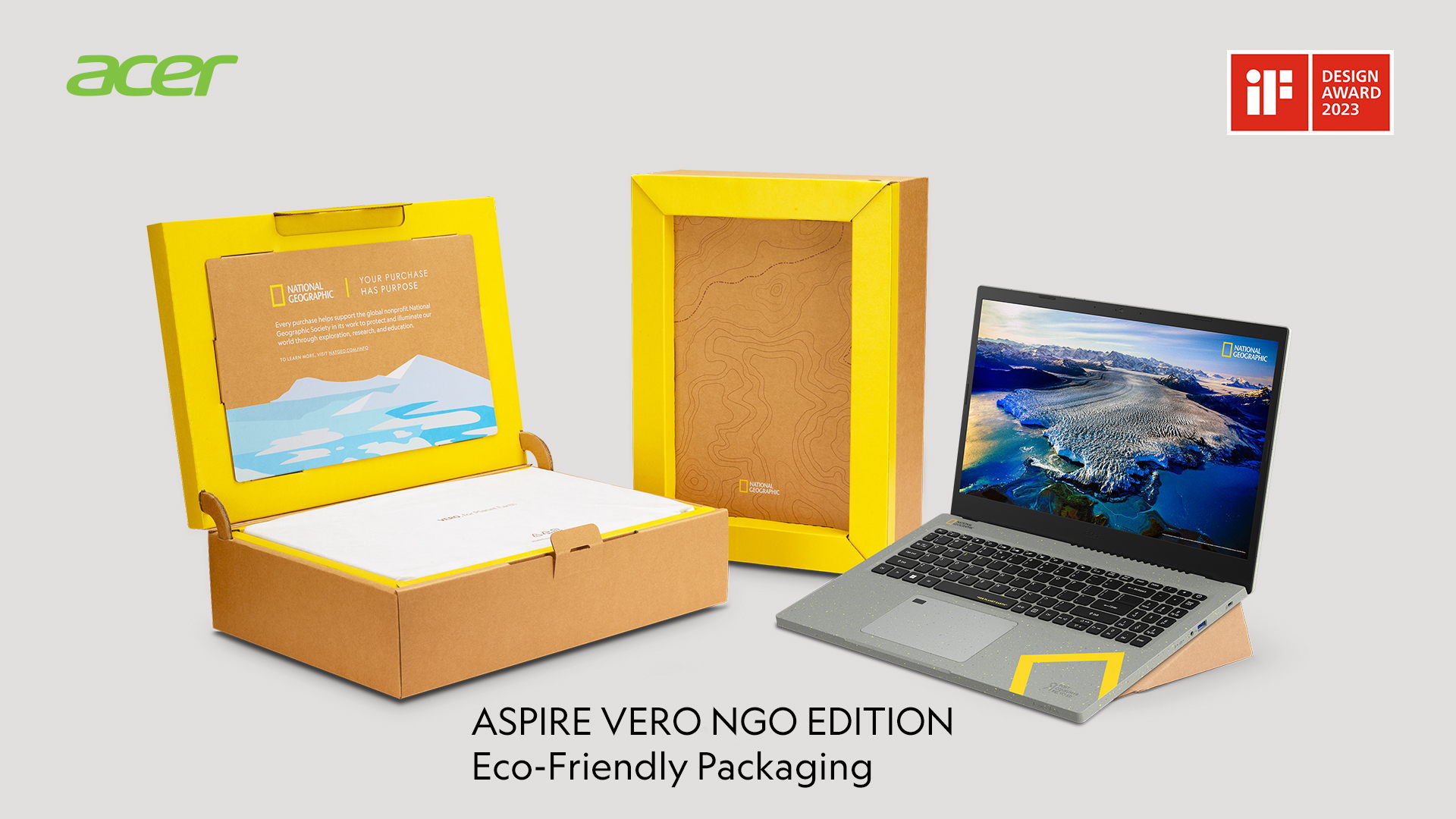 Acer Connect Enduro M3 5G Mobile Wi-Fi Router
The Acer Connect Enduro M3 mobile Wi-Fi router was developed to provide users the freedom and flexibility to stay connected in any location and environment. The mobile hotspot device features a rugged design with an IP54 protection rating and complies with military-grade (MIL-STD-810H) durability standards, helping protect the device against exposure to dust and water as well as unexpected bumps and drops during travel. It also showcases superior 5G coverage without the need for any sim card as it utilizes vSim technology, while housing a 6500 mAh high-capacity battery within its sleek structure to support all-day high-speed internet connectivity. These latest distinctions mark Acer's 73rd iF Design honors from the prestigious awards body.